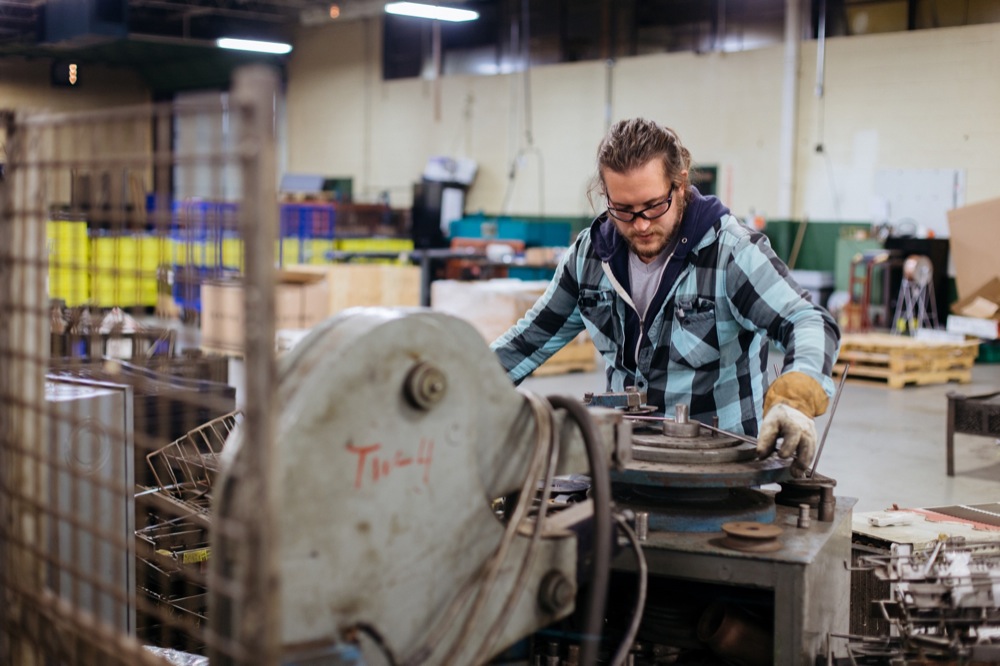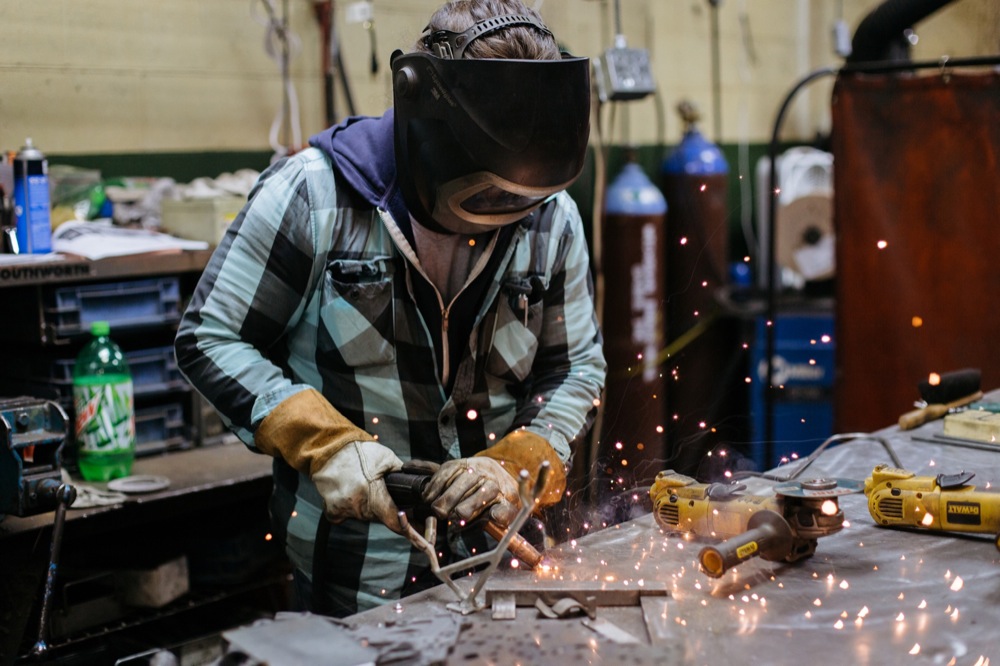 It's funny how life lessons can go awry. Like the summer that David Flack's parents had him work in the shop at the family business, SALCO Engineering.
They figured two summers on the shop floor would make David hit the books and not want to come back.
"The exact opposite happened," David says. "I fell in love with getting dirty."
And while the guys on the floor would never call themselves "artists," David absorbed their craftsmanship and resourcefulness. They taught him how to weld. Now he makes metal objects big and small, and he traces that back to growing up in the shop.
"It's captivated me since I was a little kid," he says. "I'd watch these monsters eat metal and spit out these amazing things."
Amazing things. That's what he wanted to do. David wanted to be around creation.
After graduating from Albion College in 2009, David started working with his father at SALCO, updating the technology at the shop and taking on design work and estimates.
Then he hooked up with a collaborator, Kyle Huntoon, and started building art pieces -- Kyle taking on the woodworking, and David handling the steel. They put their reclaimed art in festivals and art shows, traveling the country, and made a good business.
"Kyle opened my eyes to the idea of being a reclaimed artist - of taking junk and bringing it back to life," David says.
While the pair have amicably parted ways, David took that spirit of junk-to-art and developed his own style. Grand River Brewery had him make their tap handles, and the City of Jackson commissioned him to make bike racks around downtown.
David enjoys making furniture, too, but he'd like to try more large-scale sculptural work in the future.
"I like driving down the street and being able to say, 'I made that,'" he says.
It's the making David enjoys, coming from a part of his Midwestern upbringing. He stays on with the family business to preserve the craftsman culture.
"It's in the Midwest, it's in our blood," David says. "We come from this line of people who pull themselves up. After all the auto industry changes, we still have hopes and dreams, and all the knowledge and work ethic is still there."
"I'm always trying to see the potential. And when something does come together, it's cool."
Steel is great because it's a very forgiving material, but with limitations. That's where David finds creativity comes in handy - taking something with an inherent shape gives you pre-defined parameters. His artistic pieces are shaped by the parts of the whole.
"You have to let it come together as organically as possible," David says.
Much like Jackson. David has seen the artistic community come into its own in recent years, and he's happy to see it. Enough of the low expectations and lack of pride.
"It's nice to be a part of the scene where people are going for it, and not sitting on their hands," David says. "I want to try and motivate this city to make it a better place."
"I want to be visible."